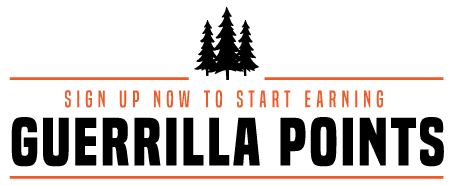 You recognize the incredible potential of our unique modular survival stoves. Are you ready to unlock the endless possibilities it has to offer?
We know you'll love your new StealthFyre survival stove so much you'll be telling your friends all about it. And we know you're going to want your friends to get a stove too, because they combine for even greater experiences, just like you and your friends! We also know you're going to want to expand your own capabilities as soon as you experience the awesomeness that is StealthFyre.
And we want to make it all easier by rewarding you for your Patronage!
Introducing StealthFyre Guerrilla Points!
Earn points for several actions you take, and redeem them for great deals and even free gear!
THREE Levels Of Earning:
---
StealthFyre Scouts
1,000 Guerrilla Points for signing up.
1 Guerrilla Point for every dollar you spend.
1500 Guerrilla Points for every friend you refer to StealthFyre.
2000 points when your friends buy a stove
2000 points when you leave us a review
---
StealthFyre Guerrillas
Our StealthFyre Scouts can earn their way into the StealthFyre Guerrillas Club. This is a second-tier membership that includes all of the benefits you've always enjoyed, plus a 10% discount on every purchase you make for TWO years!
---
NOT ENOUGH FOR YOU?
JOIN THE DISCIPLES OF FYRE AND EARN REAL CASH!
If earning deep discounts and free gear isn't enough for you, then you'd be interested to know that our members also get exclusive access to The Disciples of Fyre, our elite Members-Only Affiliate Program that pays you REAL HARD CASH for every stove you sell! StealthFyre will pay you a 10% commission, which easily translates to a livable wage for our most zealous disciples. This program can be accessed through the user dashboard in your member's account.
---
Spread the word about Stealthfyre. Get Rewarded.
With a survival stove like this, it couldn't be easier. Or more fun.